Navigating artistic inquiry in a creativeproduction thesis
Keywords:
Artistic research, Methodology, Methods, Polyvocality, Realismo maravilhoso
Abstract
This article considers the concept of artistic research as an approach to knowledge generation and understanding. It begins with a brief consideration of the historical development of artistic inquiry and its relationship with research processes and artefacts. It then discusses a specific artistic PhD research project, "Magical realities – A creative consideration of the narrative and illustrative potentials of realismo maravilhoso", as a form of a 'creative-production'. The thesis project, which is formatted as a printed storybook, explores the potentials of polyvocal narration and syncretic illustration when aspects of a narrative can be digitally expanded. In actioning the iterative development of the research, a methodological framework is used that integrates heuristic inquiry and reflexive practice. Enabled through this are three interrelated methods: designer's journals, iterative assembly, overviewing and testing, and the strategic use of feedback.
Downloads
Download data is not yet available.
References
Appadurai, Arjun. Modernity at Large: Cultural Dimensions of Globalization. Minneapolis: University of Minnesota Press, 1996.
Bakhtin, Mikhail. "Dostoevsky's Polyphonic Novel and Its Treatment in Critical Literature." Translated by Caryl Emerson. In Problems of Dostoevsky's Poetics, edited by Caryl Emerson, 5-45. Minneapolis: University of Minnesota, 1984.
Bakhtin, Mikhail. Problems of Dostoevsky's Poetics. Vol. 8, Minneapolis, MN: University of Minnesota Press, 1984.
Bakhtin, Mikhail. Rabelais and His World. Bloomington: Indiana University Press, 1984.
Bakhtin, Mikhail. Rebelais and His World. Translated by Hélène Iswolsky. Moscow: Indiana University Press, 1965.
Bastide, Roger. Problems of Religious Syncretism. Translated by Helen Sebba. The African Religions of Brazil. Towards a Sociology of the Interpretation of Civilizations. Baltimore and London: Johns Hopkins University Press, 1960.
Biggs, Michael. "The Role of Context in Art and Design Research." Working Papers in Art and Design 4 (2006).
Board, Arts and Humanities Research. "Guide to the Research Grant Scheme." http://www.ahrb.ac.uk/research/grant/guide.htm
Bolt, Barbara. "Heidegger, Handlability and Praxical Knowledge." Paper presented at the Australian Council
of University Art and Design Schools Conference, Canberra, 2004.
Bolt, Barbara. "Materializing Pedagogies?". https://www.herts.ac.uk/__data/assets/pdf_file/0015/12381/WPIAAD_vol4_bolt.pdf.
Borgdorff, Henk. Artistic Research and Academia: An Uneasy Relationship. Swedish research council, 2008.
Buckley, Brad, and John Conomos. Rethinking the Contemporary Art School: The Artist, the PhD, and the Academy. The Press of the Nova Scotia College of Art and Design, 2009.
Busch, Kathrin. "Generating Knowledge in the Arts – a Philosophical Daydream." Texte zur Kunst 82 (2011): 70-79.
Candy, Linda. "Practice Based Research: A Guide." Creativity & Cognition Studios 1 (2006).
Council, Fourth Lateran. "Catechism of the Catholic Church." http://www.vatican.va/archive/ccc_css/archive/catechism/p1s2c1p2.htm.
Cross, Nigel. "Designerly Ways of Knowing: Design Discipline Versus Design Science." Design Issues 17, no. 3 (2001): 49-55.
Douglass, Bruce G., and Clark Moustakas. "Heuristic Enquiry the Internal Search." Journal of Humanistic Psychology 25, no. 3 (1985): 39-55.
Faris, Wendy B. Ordinary Enchantments: Magical Realism and the Remystification of Narrative. Nashville: Vanderbilt University Press., 2004.
Frayling, Christopher. "Research in Art and Design."Royal College of Art Research Papers 1, no. 1 (1993): 1-5.
Gray, Carole. "Inquiry through Practice: Developing Appropriate Research Strategies." No Guru, No Method?
(1996): 1-28.
Gray, Carole, and Julian Malins. Visualizing Research: A Guide to the Research Process in Art and Design. England: Ashgate, 2004.
Hamilton, Jillian G. "The Voices of the Exegesis." In Practice, Knowledge, Vision: Doctoral Education in Design, edited by Ken Friedman and Lorain Justice. Hong Kong Polytechnic University, School of Design: Queensland University of Technology, 2011.
Haseman, Brad. "A Manifesto for Performative Research."Media International Australia incorporating Culture and Policy 118, no. 1 (2006): 98-106.
Heard, Catherine. Review of Rethinking the Contemporary Art School: The Artist, the PhD, and the Academy. Brad Buckley and John Conomos. RACAR: Revue d'art Canadienne / Canadian Art Review 35, no. 2 (2010): 81-83.
Hedrick, Basil Calvin. The Afro-Brazilian Fetish Cults: Religious Syncretism. Grambling College Liberal Arts Bulletin, 1967.
Heidegger, Martin. "The Question of Technology and Other Essays." Trans. W. Lovett. New York: Harper and Row, (1977).
Ings, Welby. "The Authored Voice: Emerging Approaches to Exegesis Design in Creative Practice PhDs." Educational Philosophy and Theory 47, no. 12 (2014): 1277-90.
Ings, Welby. "Managing Heuristics as a Method of Inquiry in Autobiographical Graphic Design Theses." (2011).
Jones, Timothy Emlyn. "The PhD in Art & Design." Paper presented at the ELIA Comhar Conference, Dublin, 2002.
Julian. "What Is Artistic Research?". Gegenworte - Berlin-Brandenburgische Akademie der Wissenschaften 23 (2010): 1-6.
Kleining, Gerhard, and Harald Witt. "The Qualitative Heuristic Approach: A Methodology for Discovery in
Psychology and the Social Sciences. Rediscovering the Method of Introspection as an Example." 1 13 (2000).
Mäkelä, Maarit. "Knowing through Making: The Role of the Artefact in Practice-Led Research." Know Techn
Pol 20 (2007): 157–63.
Moustakas, Clark. Heuristic Research: Design, Methodology, and Applications. Thousand Oaks, CA: SAGE, 1990. doi:10.4135/9781412995641.
Mühl, Sebastian. "Artistic Research as a Challenge for Art Criticism." Notebook for art, theory and related zones 20 (2016): 1-13. http://vvp.avu.cz/wp-content/uploads/2016/12/muhl.pdf.
OECD. Frascati Manual 2015: Guidelines for Collecting and Reporting Data on Research and Experimental Development. Paris: OECD Publishing, 2015.
OECD. "Glossary of Statistical Terms " https://stats.oecd.org/glossary/detail.asp?ID=2312.
Polanyi, Michael. The Tacit Dimension. Garden City, NY: Doubleday, 1966.
Ramos, Arthur. "Acculturation among the Brazilian Negroes." The Journal of Negro History 26, no. 2 (1941): 244-50.
Rodgers, Paul A., Graham Green, and Alistair Mc-Gown. "Using Concept Sketches to Track Design Progress."
Design Studies 21 (2000): 451–64.
Rosenberg, Terry E. "New Beginnings and Monstrous Births: Notes Towards an Appreciation of Ideational Drawing." (2008).
Schön, Donald. The Reflexive Practitioner: How Professionals Think in Action. New York, NY: Basic, 1983.
Schwartz, Fred R. "Graduate Education in the Fine Arts." Art Education 25, no. 7 (1972): 20-22.
Scrivener, Stephen. "The Art Object Does Not Embody a Form of Knowledge." England: University of Hertfordshire, 2002.
Scrivener, Stephen. "Characterising Creative-Production Doctoral Projects in Art and Design." International Journal of Design Sciences and Technology 10, no. 2 (2002): 25-43.
Sela-Smith, Sandy. "Heuristic Research: A Review and Critique of Moustakas's Method." Journal of Humanistic Psychology 42, no. 3 (2002): 53-88.
Slemon, Stephen. "Magic Realism as Post-Colonial Discourse." Canadian Literature 116 (1988): 9-24.
Slemon, Stephen. "Magic Realism as Postcolonial Discourse." In Magical Realism: Theory, History, Community,
edited by Lois Parkinson Zamora and Wendy B. Faris. United States of America: Duke University Press, (1995): 407-26.
Splinder, William. "Magic Realism: A Typology." Forum for Modern Language 34, no. 1 (1993): 75-85.
Stewart, Charles. "Creolization, Hybridity, Syncretism, Mixture." Portuguese Studies, no. 1 (2011): 48.
Strand, Dennis. Research in the Creative Arts. Vol. 98: Department of Employment, Education, Training and Youth Affairs Canberra, 1998.
Sullivan, Graeme. Art Practice as Research: Inquiry in Visual Arts. Sage, 2010.
Thomas, Elaine. "Research Training in the Creative and Performing Arts and Design." Lichfield: UK Council
for Graduate Education (2001).
Zamora, Lois Parkinson, and Wendy B. Faris. Magical Realism: Theory, History, Community. United States
of America: Duke University Press, 1995.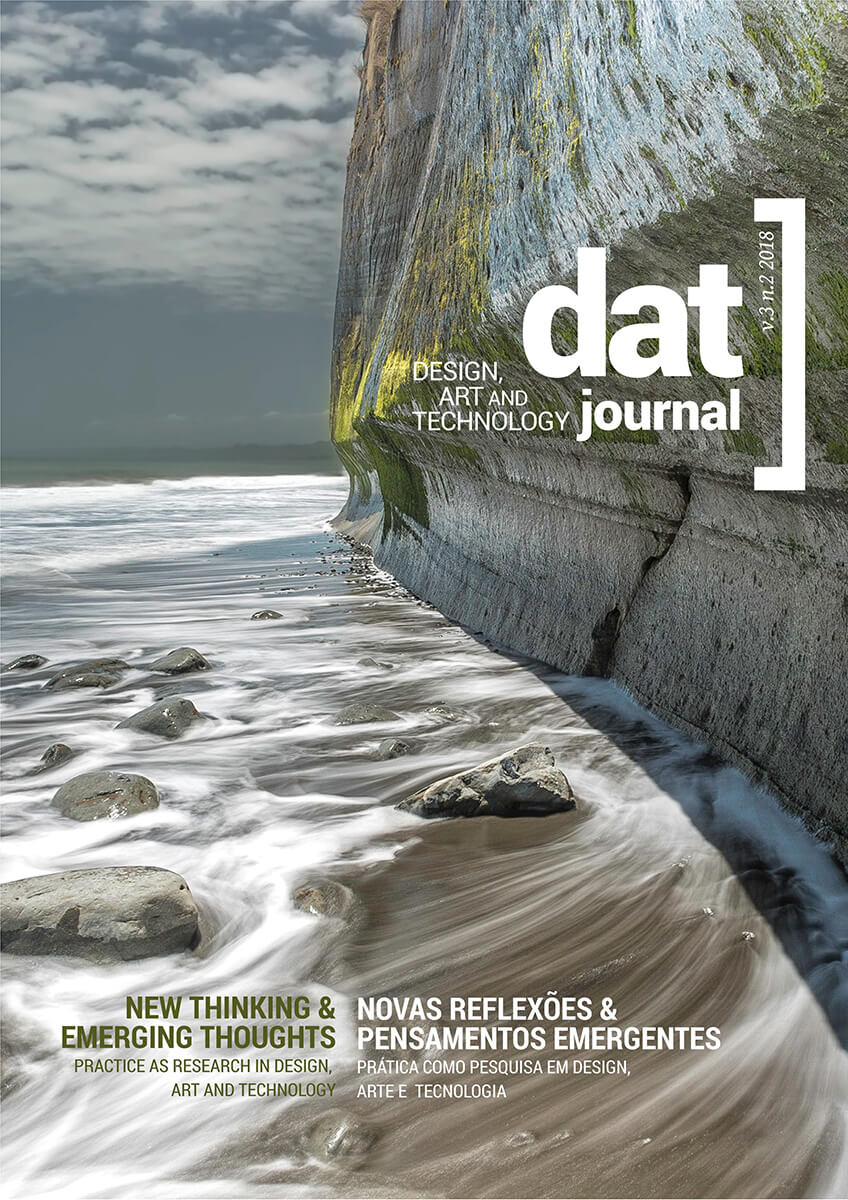 How to Cite
Tavares, T., & Ings, W. (2018). Navigating artistic inquiry in a creativeproduction thesis. DAT Journal, 3(2), 9-42. https://doi.org/10.29147/dat.v3i2.85