Comparison of traditional manual prototyping techniques and their importance to design
Keywords:
Design, Modeling, Models, Prototyping
Abstract
Design is a very broad activity, which consists of creating products, objects
that then will be manufactured and marketed. In this setting process there is a step that is essential to use models and prototypes can be made in many different kinds of techniques and materials. Thus, this study aims to compare the various traditional prototyping techniques performed manually, using and classifying the various techniques and materials, taking into account criteria such as cost, implementation time and level of difficulty, choosing for this a product (packaging) that serve as an example to generate comparisons between the developed models.
Downloads
Download data is not yet available.
References
ALCOFORADO, M. G. Metodologia de Design Mediada por protótipos [Tese de Doutorado] Bauru: Unesp, 2014, 460 p.
BARBOSA, R. T. Design & Prototipagem: Conhecimento e uso da prototipagem Rápida no Design Brasileiro. [Dissertação de Mestrado] Bauru, UNESP, 2009, 198p.
BAXTER, M. Projeto de Produto: Guia prático para o desenvolvimento de novos produtos. São Paulo. Editora Edgard Blücher Ltda. 1998.
CARDOSO, Rafael. Uma introdução à história do Design.3. ed.São Paulo:Edgard Blücher, 2008.
CHRISSIS, M.B. et al. Guidelines for Process Integration and Product Improvement, Addison-Wesley, 2003.
D'ADDERIO, L., Crafting the Virtual Prototype: How Firms Integrate Knowledge and Capabilities Across Organisational Boundaries, Research Policy, Vol. 30, pp.1409-24. 2001.
DORTA, T., Vers la maîtrise du virtuel à travers le réel: un nouvel usage de l'informatique en design, Université de Montreal, 2006, pp.131-138.
EVANS, M., Model or prototype which, when and why? IDATER, Conference, Loughborough University, 1992, pp.42-46
FORTI, F. S. A. Uma Avaliação do ensino da Prototipagem Virtual nas Graduações de Design de Produto do Estado do Rio de Janeiro. 2005, 105p. Dissertação (Mestrado], COPPE, Universidade Federal do rio de Janeiro.
HANINGTON, B. M., Interface in form: paper and product prototyping for feedback and fun, Volume 13, Issue 1, The art of prototyping, 2006, pp.28-30.
KNIGHT, T. Interaction in Visual Design Computing, Massachusetts Institute of Technology, Cambridge, Massachusetts, EUA, 2004 p.1-31.
KINDLEIN, W. J. A importância do Binômio Design e Engenharia como Catalisador de Inovação. 6º Congresso Brasileiro de Pesquisa e Desenvolvimento em Design, 2004, FAAP, São Paulo. In: Anais 6º Congresso Brasileiro de Pesquisa e Desenvolvimento em Design, FAAP, São Paulo, 2004.
MARTINS, A. F. P. Da maqueta para o desenho: meios de representação tridimensional no design de artefactos, 2010, 149p. Dissertação (Mestrado) Aveiro: Universidade de Aveiro.
PENNA, E. Modelagem, modelos em design, São Paulo. Catálise, 2002.
RELVAS, C. A. M.; Processos de prototipagem rápida no fabrico de modelos de geometria complexa: Estudo realizado sobre modelo anatômico da mão. 2002, 121p. Dissertação (Mestrado) Faculdade de Engenharia da Universidade do Porto, Porto.
SANTOS, J. R. L. Breve histórico do uso de modelos 3D físicos no desenvolvimento de projetos. 7º Congresso Brasileiro de Pesquisa e Desenvolvimento em Design, 2006 UFPR, Curitiba, In: Anais 7º Congresso Brasileiro de Pesquisa e Desenvolvimento em Design, 2006. UFPR, Curitiba, 2006.
ULRICH, K.T.; EPPINGER, S. D., Product design and development,-3rd ed. McGraw- Hill/Irwin, 1995.
VOLPATO, N.; FERREIRA, C. V.; SANTOS, J. R. L. Integração da prototipagem rápida com o processo de desenvolvimento de produto. In: Prototipagem Rápida: Tecnologias e aplicações, São Paulo: Edgar Blücher, 2007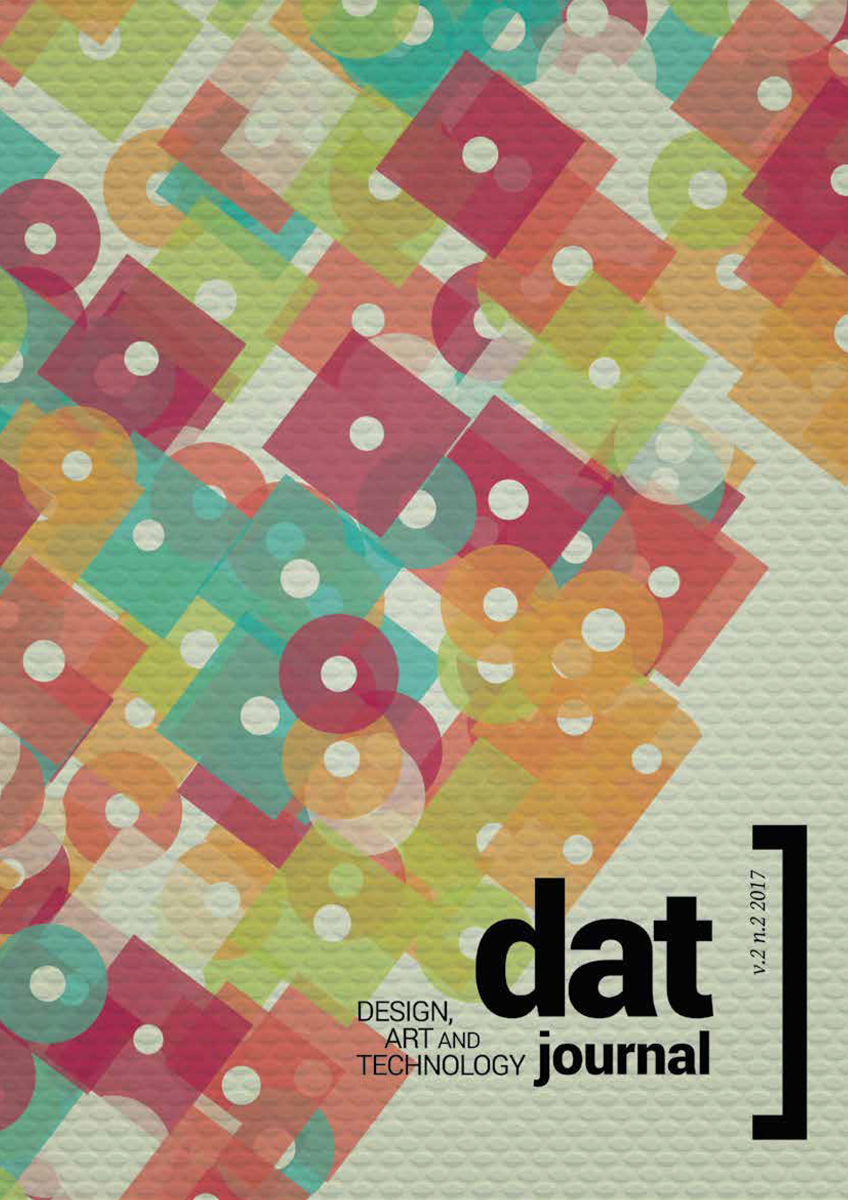 Downloads
How to Cite
Pereira, D., Lanutti, J., Paschoarelli, L. C., & Pinheiro, O. (2017). Comparison of traditional manual prototyping techniques and their importance to design. DAT Journal, 2(2). https://doi.org/10.29147/2526-1789.DAT.2017v2i2p159-175