Street-art
Objects-resistance
Ágatha Moraes

Luisa Paraguai
Keywords:
Art and design, Street art and feminism, Public space and narratives
Abstract
In the interdisciplinary context between Arts and Design, the text is concerned with public space as a physical support and production agent of images
to build visual narratives. Street Art is a powerful action that leads to the experiences of people while activating political places of speech. It presents references in Lynch (1990) and Mitchell (2017) to think about the image production of cities as reciprocal actions, affirming female protagonism in this discourse (Butler 2017, Davis 2016). In this sense, the project "Holy Women" (2018) constitutes an
object-resistance, which happens to circulate through public space as an artistic and activist practice.
Downloads
Download data is not yet available.
References
ABREU, K. C. K. 2011. "Cartaz Publicitário: um resgate histórico." In Anais do 8o Encontro Nacional de História da Mídia. Guarapuava: ALCAR; Unicentro, 1-16.
ANDRÉ, C. 2011. "Arte, Biopolítica e Resistência." Revista Brasileira de Estudos da Presença 1, no.2: 426-442. http://dx.doi.org/10.1590/2237-266021497.
ARGAN, G. C. 2005. História da arte como história da cidade. São Paulo: Martins Fontes.
BOURDIEU, P. 1987. "What makes a social class? On the theoretical and practical existence of groups." Berkeley Journal Sociology 1, no. 32: 1-49.
BUTLER, J. 2017. Problemas de gênero: Feminismo e a subversão da identidade. Rio de Janeiro: Civilização Brasileira.
BRISSAC, N. 1996. Paisagens urbanas. São Paulo: Senac/Marca D'Água.
CAUQUELIN, A. 2005. Teorias da arte. São Paulo: Martins Fontes.
CAUQUELIN, A. 2007. A invenção da paisagem. São Paulo: Martins Fontes.
CASTELLS, M. 2018. O poder da identidade. São Paulo: Paz e Terra.
CERTEAU, M. de. 2008. A invenção do cotidiano: 1. Artes do fazer. Petrópolis: Editora Vozes.
DAVIS, A. 2016. Mulheres, raça e classe. São Paulo: Boitempo.
EISENSTEIN, S. 2002. A forma do filme. Rio de Janeiro: Zahar.
FERREIRA, M. L.; Kopanakis, A. R. 2015. "A cidade e a arte: um espaço de manifestação." Tempo da Ciência 44, no. 22: 79-88.
LYNCH, K. 1990. The image of the city. Cambridge, Massachusetts, and London, England: The MIT Press.
MITCHELL, W.J.T. 2017. "O que as imagens realmente querem?". In Pensar a imagem, edited by Emmanuel Alloa, 165-189. Belo Horizonte: Autêntica Editora.
OLIVEIRA, D. 2015. Lambe-lambe: Resistência à verticalização do Baixo Augusta. Monografia (Especialização). Curso de Gestão de Projetos Culturais e Organização de Eventos, São Paulo: Universidade Estadual de São Paulo. Disponível em: http://paineira.usp.br/celacc/?q=pt-br/celacc-tcc/772/detalhe. Acesso em: 24 nov. 2018.
PATROCINIO, P.R.T. 2011. O que há de positivo em ser marginal? In: Anais do Congresso Internacional da Associação Brasileira de Literatura Comparada. Curitiba: Abralic.
SANTOS, M. 2006. A Natureza do Espaço: Técnica e Tempo, Razão e Emoção. São Paulo: Editora da Universidade de São Paulo.
TUAN, Yi-Fu. 2011. Space and place. The perspective of Experience. Minneapolis: University of Minnesota.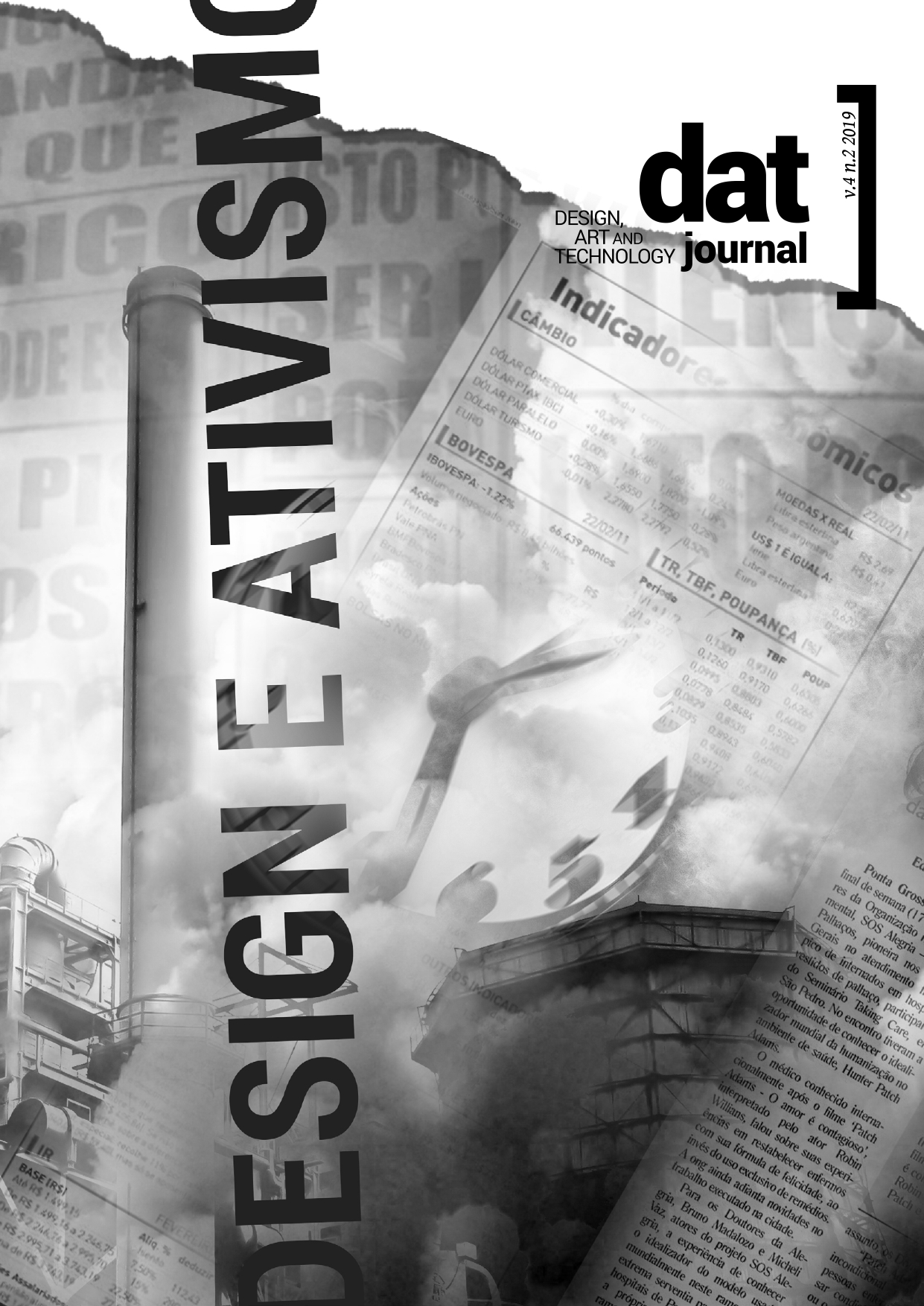 How to Cite
Moraes, Ágatha, & Paraguai, L. (2019). Street-art: Objects-resistance. DAT Journal, 4(2), 60-68. https://doi.org/10.29147/dat.v4i2.130