Activaciones territoriales
Abstract
Los ejercicios sobre el territorio, en el campo del arte, plantean abordajes que ponen en cuestión la estabilidad de los discursos, el statu quo de determinadas prácticas normalizadas y el carácter endogámico en relación a una cierta construcción de la escena y de los cánones artísticos. Estas operaciones permiten expandir así la praxis más allá, no sólo de los límites físico-espaciales, sino también de los cotos sociales, conceptuales y mentales. A partir de dos experiencias de acción e intervención, en las que, desde diferentes ópticas y estrategias se intenta operar sobre el dispositivo "espacio público", propongo re-examinar las nociones que lo atraviesan y que el mismo trasunta. Explorar las acciones, cuya resultante es el emplazamiento simbólico – las incisiones críticas sobre el territorio, desde donde
pueden alumbrarse capas invisibilizadas -, pone en foco la tensión entre territorio y acción, habilitando nuevos debates en torno al concepto de "espacio
público" y arte.
Downloads
Download data is not yet available.
References
BAUDRILLARD, Jean (1978). Cultura y simulacro. Barcelona: Kairós.
BONSIEPE, Gui (1998). Del objeto a la interfaz: mutaciones del diseño. Buenos Aires: Ediciones Infinito.
BORGES, Jorge Luis (2002) "Del rigor en la ciencia", en Obras completas, vol. II.. Buenos Aires: Emecé.
CASEY, Edward (2001) "Body, Self, and Landscape: A Geophilosophical Inquiry into the Place-World", en P. C. Adams et al.(Eds.), Textures of Place: Exploring Humanist Geographie. Minneapolis, MN: University of Minnesota Pres.
DELEUZE, Gilles (1988). Conversaciones con Claire Parnet. Video disponible en idioma original y transcripción con traducción al castellano en hhttp://estafeta-gabrielpulecio. blogspot.com/2009/08/gilles-deleuze-abecedario-entrevistas.html
FERNANDO, Jeremy (2011) Writing Death. The Hague: Uitgeverij.
GROSZ, Elizabeth (2008). Chaos, territory, art: Deleuze and the framing of the earth. New York: Columbia University Press.
LEVINAS, Emmanuele (2005). El humanismo del otro hombre. México: Siglo XXI
RICOEUR, Paul (2008). La memoria, la historia, el olvido. Buenos Aires: Fondo de Cultura Económica.
WARBURG, Aby (2010). Atlas Mnemosyne. Madrid: Akal.
WEIBEL, Peter (2008). "Foreword", en Christa Sommerer et al. (ed.), The Art of Science Interface and Interaction Design, Berlin, Heidelberg: Springer-Verlag.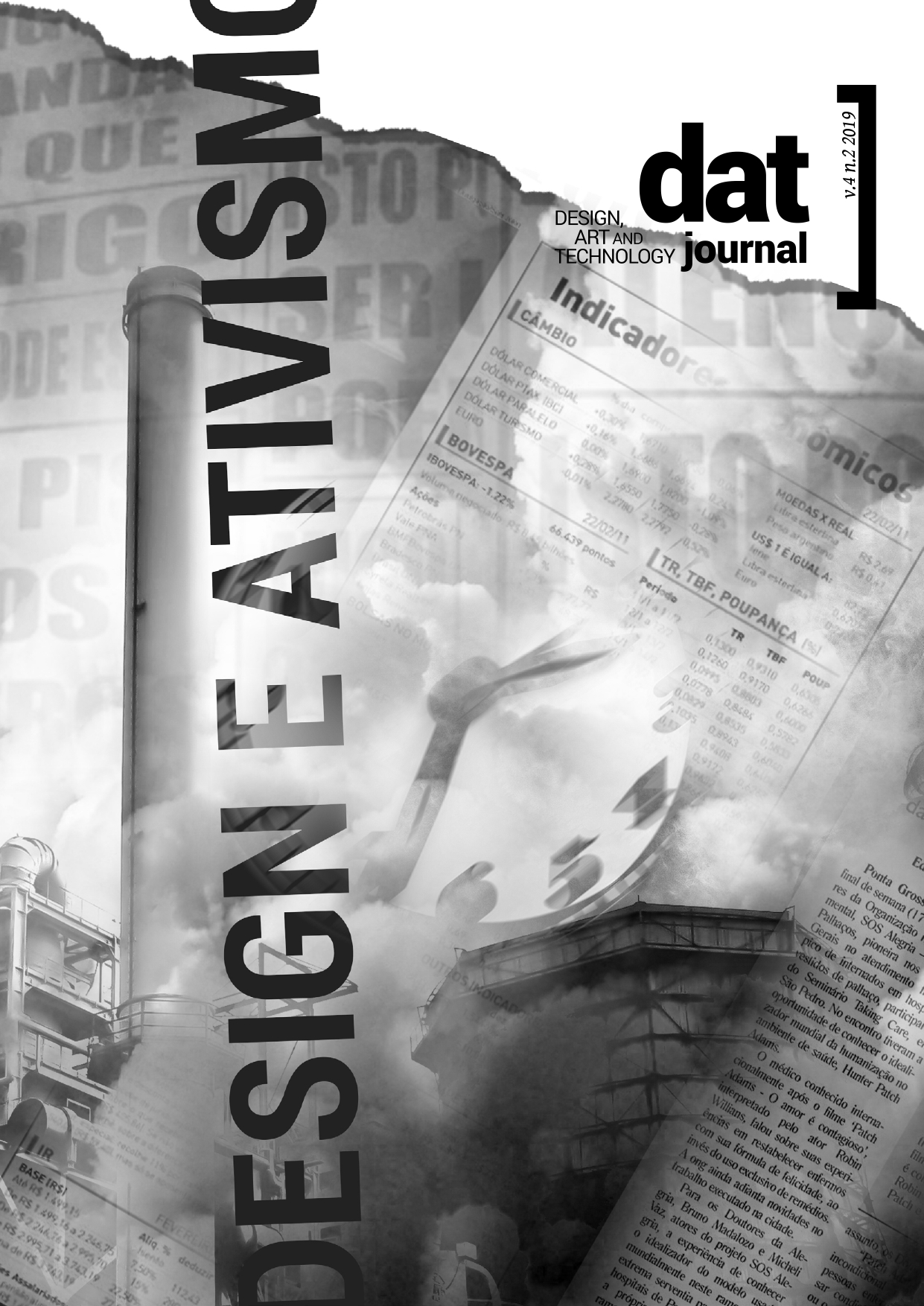 How to Cite
Yeregui, M. (2019). Activaciones territoriales. DAT Journal, 4(2), 48-59. https://doi.org/10.29147/dat.v4i2.128