Characterization of the Bottle Gourd (Lagenaria siceraria): thermogravimetric analysis, determination of moisture content, basic density and apparent density
Danieli Nejeliski

Lauren da Cunha Duarte
Keywords:
Lagenaria siceraria, Thermogravimetric analysis, Density
Abstract
The bottle gourd (Lagenaria siceraria) is a fruit that after drying becomes hollow and similar to the wood. It has spread all over the continents and is used by different peoples in the handmade confection of containers, musical instruments and buoys. With an annual productive cycle and high productivity, is an alternative renewable source. Its use in the design of new products depends on the definition of the main properties. The characterization was done through thermogravimetric analysis, determination of moisture content, basic and apparent density and water absorption test. In thermogravimetric graphs, the similar behavior of bottle gourd and wood species on exposure to heat confirms that the chemical composition of both has many aspects in common. It has a very low heterogeneous density, on average 0.124 g / cm³, similar to the polymer foams. As for the water absorption, the samples had a mass increase of about 150% until
saturation, being configured as a hydrophilic material.
Downloads
Download data is not yet available.
References
ABNT, Associação Brasileira de Normas Técnicas. NBR 7190: Projeto de estruturas de madeira. Rio de Janeiro, 1997.
ABNT, Associação Brasileira de Normas Técnicas. NBR 15316: Painéis de fibras de média densidade. Rio de Janeiro, 2014.
ASHBY, Michael. F.; JOHNSON, Kara. Materiais e design: arte e ciência na seleção de materiais no design de produto. Rio de Janeiro: Elsevier, 2011.
BASTOS, Moira Anne Bush. Poética da cabaça: fruto de tradição, arte e comunicação. 2010. Dissertação (Mestrado em Artes) – Universidade Estadual Paulista, São Paulo, 2010.
BISOGNIN, Dilson A. Origin and evolution of cultivated cucurbits. Revista Ciência Rural: Santa Maria, v. 32, n. 5, p. 715 – 723, 2002.
BISOGNIN, Dilson A.; SILVA, André. L. L. A cultura do porongo. Informe técnico, ed. Pelo Departamento de Fitotecnia do centro de Ciências Rurais (CCR) da Universidade Federal de Santa Maria (UFSM), 2004.
BURTENSHAW, Mike. The first horticultural plant propagated from seed in New Zealand: Lagenaria siceraria. New Zealand Garden Journal, 2003.
KISTLER, Logan; MONTENEGRO, Álvaro; SMITH, Bruce D.; GIFFORD, John A.; GREEN, Richard E.; NEWSON, Lee A.; SHAPIRO, Beth. Transoceanic drift and the domestication of African bottle gourds in the Americas. Proceedings of the National Academy of Sciences of the United States of America - PNAS, vol. 111, nº 8, 2014.
LAGO, Tatiana. Caracterização e impregnação polimérica do porongo (Lagenaria siceraria) visando aplicação no design de biojóias. Dissertação (Mestrado em Design), Universidade Federal do Rio Grande do Sul, Porto Alegre, 2013.
ÓRFÃO, J. J. M.; ANTUNES, F. J. A.; FIGUEIREDO, J. L. Pyrolisys kinetics of lignocellulosic materials – three independent reactions model. Fuel, London, v. 78, p. 349 – 358, 1999.
ÓRFÃO, J. J. M.; FIGUEIREDO, J. L. A simplified method for determination of lignocellulosic materials pyrolisys kinetics from isothermal thermogravimetric experiments. Thermochimica Acta, Amsterdam, v. 380, p. 67 – 78, 2001.
RASEIRA, C. B. Design e tecnologia aplicados a resíduos de madeira: especificações para o processo de corte alaser em marchetaria. Dissertação (Mestrado em Design). Universidade Federal do Rio Grande do Sul, Programa de Pós-Graduação em Design, Porto Alegre, 2013.
SILVA, André L. L.; et al. Coleta e caracterização morfológica de populações de porongo – Lagenaria siceraria (Mol.) Standl. – Cucurbitaceae. Revista Ciência & Natura: Santa Maria, p. 91 – 100, 2002.
TREVISOL, Wolmar. Morfologia e fenologia do porongo: produtividade e qualidade da cuia. Tese (Doutor em Ciências). Escola Superior de Agricultura "Luiz de Queiroz", Piracicaba, 2013.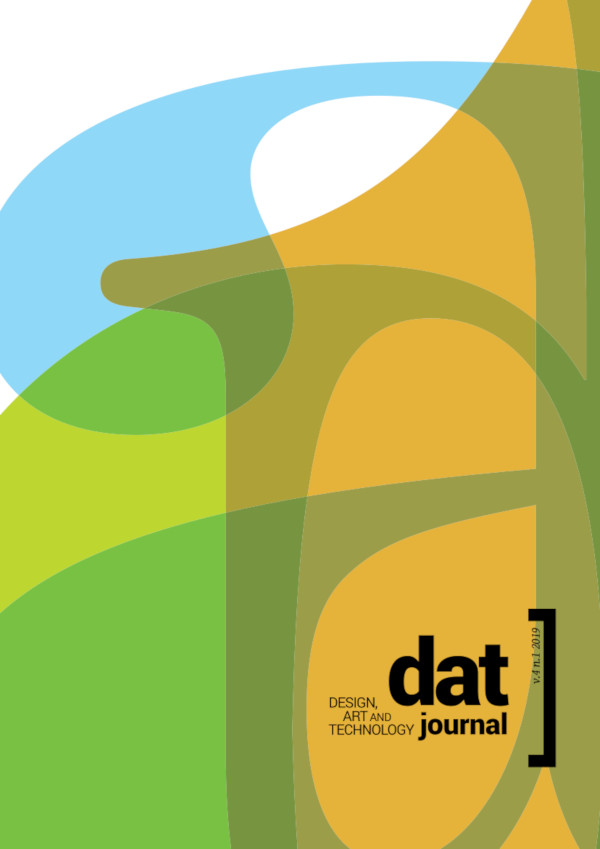 How to Cite
Nejeliski, D., & Duarte, L. da C. (2019). Characterization of the Bottle Gourd (Lagenaria siceraria): thermogravimetric analysis, determination of moisture content, basic density and apparent density. DAT Journal, 4(1), 14-26. https://doi.org/10.29147/dat.v4i1.108